FiveRivers Legacy River Restoration Field Trip
Earlier this month (July 2023), our founder, Jason Lovering, arranged a legacy field trip to Norfolk visiting river restoration projects FiveRivers completed between 2016 and 2019 for the Norfolk Rivers Internal Drainage Board and Norfolk Rivers Trust, while also visiting active sites.
We were pleased to host the two day event and were joined by Charles Rangeley-Wilson (Wild Trout Trust Ambassador), Simon Johnson (Freshwater Biological Association), Marcus Huband (Atkins), Ian Morrisey (Atkins), Paul George (Norfolk Rivers Trust), Tim Jacklin (Wild Trout Trust), Ed Bramham-Jones (Norfolk Rivers Trust).
The purpose of the trip was to see, first-hand, how FiveRivers previous projects are maturing. To monitor success of projects, learn lessons for the future and share best practice.
We visited – River Nar, Castle Acre, River Stiffkey (with Norfolk Rivers Trust), Pensthorpe, River Wensum, Raynham Park Wensum, River Glaven.
In the last decade FiveRivers have delivered multiple river restoration projects on the varying chalk streams of Norfolk. We recently went back to visit the sites with key stakeholders and partners to inspect how the works had matured. There were varying successes across all the projects we revisited with River Nar at Castle Acre as a stand out success and, unfortunately at the time of visiting the River Raynham head waters had almost run dry.
Site Visit 1:
River Nar at Castle Acre
Excavation of new channel in flood plain. This channel was designed to flood out of channel and into the flood plain more frequently, which it seems to achieved very successfully. The new channel has some of the most impressive woody debris, gravel features I have seen to date. What stood out was the success of the entire flood plain. The back channel, rather than over vegetate, has created some really interesting habitat in it's own right and the addition of grazing has transformed the flood plain from a monoculture to a more diverse habitat.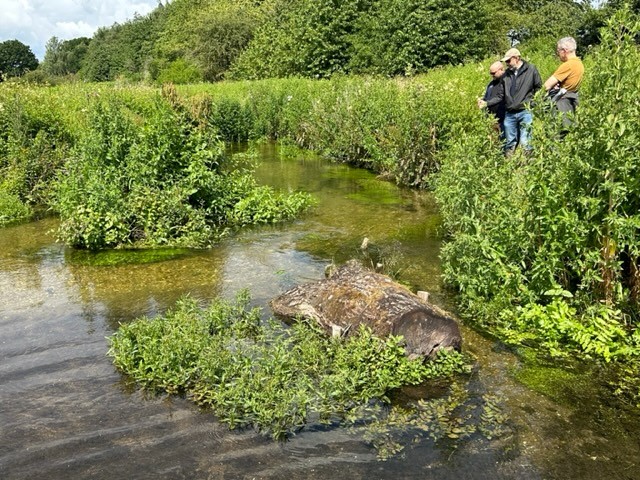 Site Visit 2:
River Stiffkey
This is a live project run by Norfolk Rivers Trust with Charles Rangeley-Wilson overseeing. Whilst FiveRivers are not involved in this project it's always valuable to visit other sites and observe other methodologies and approaches to the work we do.
The project is similar to the previous excavation project we visited on the Nar of a new channel being excavated within the flood plain.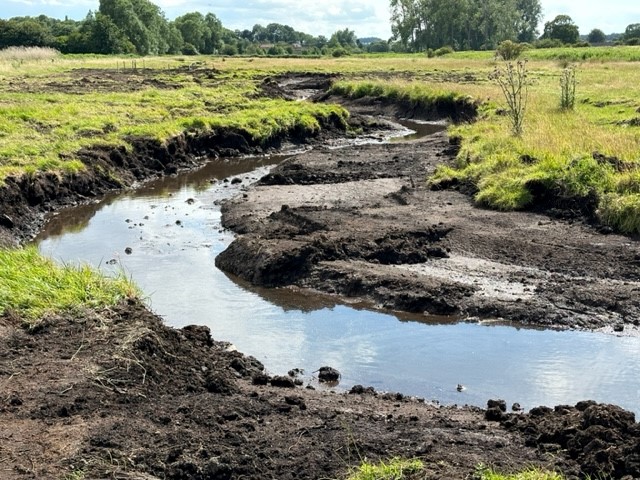 Site Visit 3:
River Glaven
This project was undertaken by The Norfolk Rivers Trust and The Wild Trout Trust in 2014 and involved excavation of a new river channel to remove a brick culvert. After nine years the stream was very well established and you'd never know it was not natural.
Site Visit 4:
The River Wensum at Pensthorpe
FiveRivers delivered this Atkins designed project and created gravel glides, deflectors and brush wood berms to encourage out of bank flooding. This created greater diversity within the channel which had become over straightened and too deep over time. These works were phased over a three year period with the final year cumulating in a wetland creation, retaining bund with water control structures.
It was interesting to see the variation in gravel migration and discuss how individual priorities can influence the outcomes of the natural process as project mature over time. The full case study relating to this river restoration project can be found here.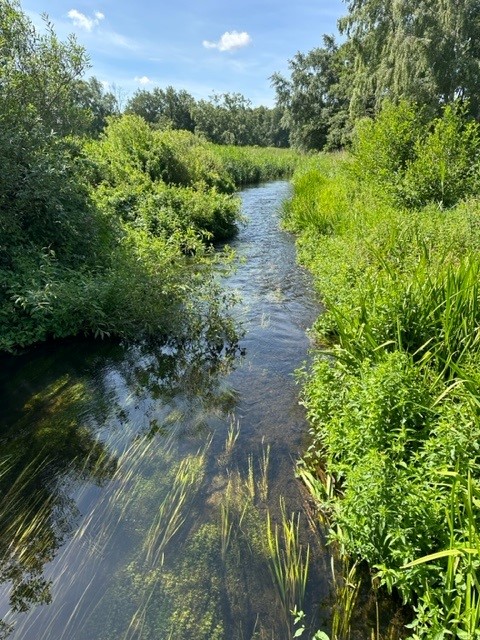 Site Visit 5:
The River Wensum at West Raynham
FiveRivers delivered this Atkins designed project and excavated a palaeolithic channel through woodland and created in channel berms, glides and woody debris.
It was a real shame that, whether down to over abstraction or climate factors, there was very little water in the channel. The vegetation was so well established that these low flows must have been this way for some time.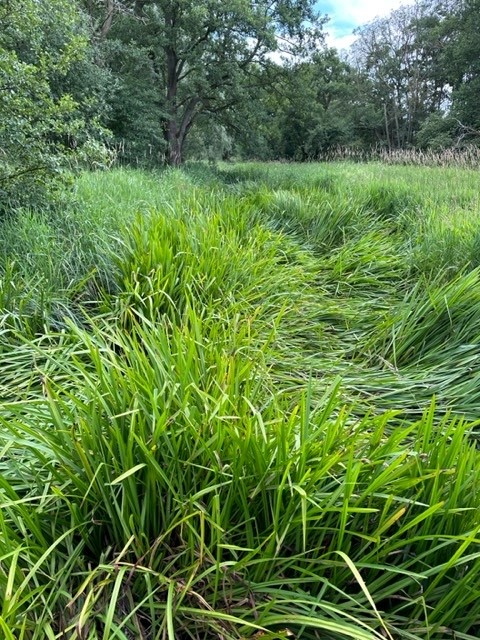 It was great to catch up with so many industry experts in a relaxed and informal, yet informative and thought provoking format.
We agreed that further monitoring of the work we all do must be a priority. We need to learn from past projects and data is critical to ensure that we can demonstrate the impact of the work we do.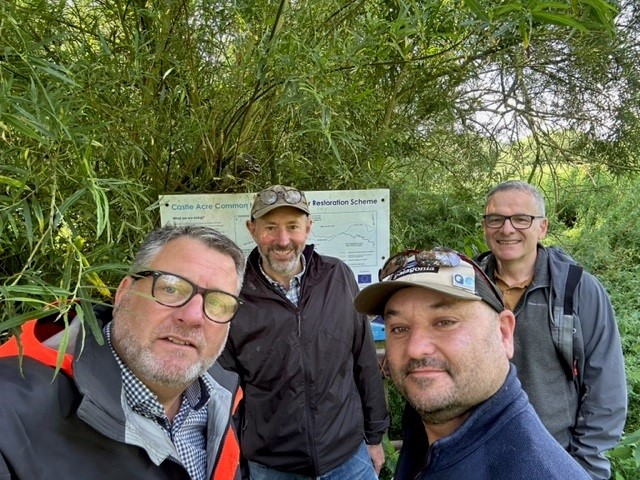 About FiveRivers
FiveRivers is a leading industry specialist in the monitoring, consultation, design, and delivery of ecological and environmental nature-based solutions. With over 25 years' working with nature, our expertise encompasses terrestrial and aquatic habitats with a specific passion for rivers and wetlands.
Our services deliver environmental protection, enhancement and restoration through environmental and ecological monitoring. ecological mitigation and habitat improvement. and A specialist of choice, FiveRivers delivers innovative, sensitive, and leading solutions across all sectors.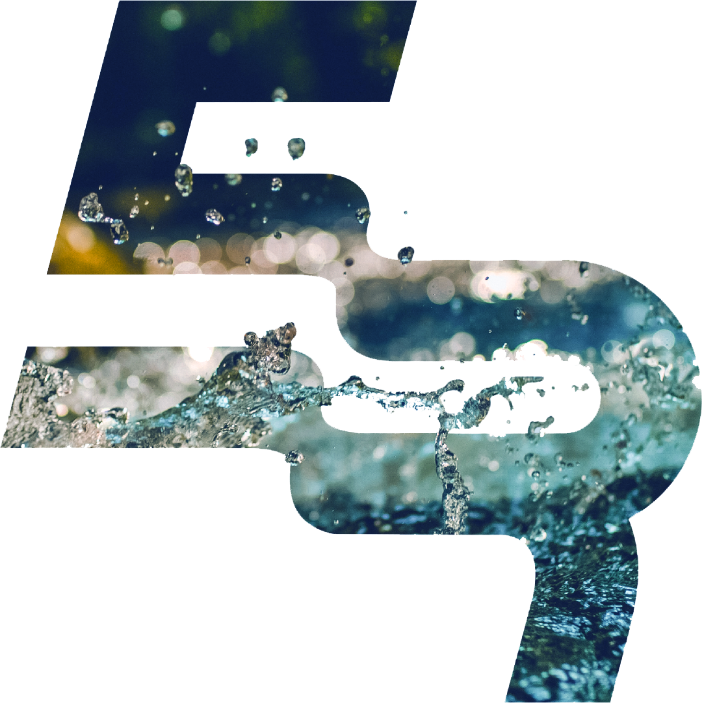 Newsletter
Keep in touch.
The natural choice for latest industry comment, news, insight and discussion