Environmental Monitoring
Caring for the environment is at the core of our values and how we operate, and we know that sound environmental decisions are based on accurate and reliable data.
Environmental monitoring is carried out for various purposes: from providing standalone snap shots of a moment in time, to undertaking long-term investigations needed to address complex issues in the environment around us. Our environmental monitoring services provide our clients with the information they need for a range of environmental assessments, environmental permit monitoring and compliance, or to evaluate the performance of a habitat management or restoration scheme.
Whatever your project driver is, we're here to ensure that it will be a success, no matter the scale or the cost. Our environmental specialists can work with you to design environmental monitoring programmes that will meet the project objectives, providing accurate and reliable data for all regulatory requirement, to inform best practice environmental management and mitigation.
Water Quality Monitoring & Hydrometry and Telemetry
Through Water Quality Monitoring and Hydrometry and Telemetry we at FiveRivers are committed to making a positive change to the world around us, and are proud to have worked with clients such as Mott MacDonald and Southern Water on a range of fantastic projects throughout the UK.
Want to learn more about our environmental monitoring services? Scroll down for further information, or contact a member of our team today to discuss your project needs.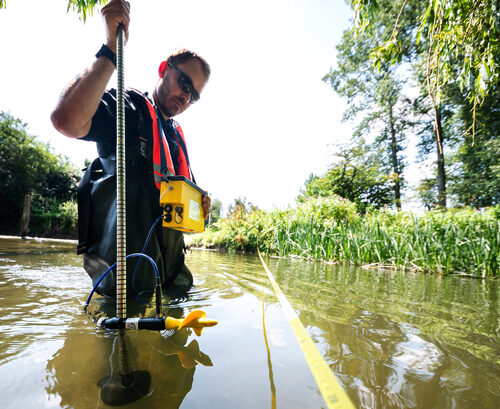 Collection of hydrological data and installation of telemetry instrumentation.
Learn more
Testimonial
Great communication, timely reporting and lovely people to deal with.
Clare Postlethwaite, Mott MacDonald